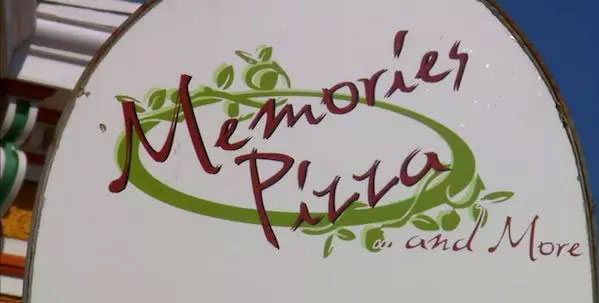 An unassuming little restaurant in Walkerton, Indiana with the unlikely name of Memories Pizza is this week's ground zero in the culture war. The O'Connor family, who have been quietly serving deep dish pepperoni to local residents the past ten years are now labeled as despicable, haters, bigots. They have received death threats. One woman is under criminal investigation for threatening, in a fit of righteous indignation, to burn down their restaurant. They've had to close their doors.
Goodness! What have these awful people done? Blown up a day care? Desecrated Mother Theresa's grave? Worse. They (get ready to gasp, dear friends) stood up for their Christian faith. One of the owners, when approached by a reporter, stated that they would never turn away a homosexual customer for dinner, but would not participate in a homosexual "wedding." That young girl seems a real threat to society, doesn't she?
Wait. What? That's right, dear friends. They read the Bible and endeavor to do what it says – which includes refusing to knowingly participate in sin. And like it or not, the Bible teaches that homosexual behavior is a sin. And like it or not, catering a pretend wedding for homosexuals is participating in sin.
But aren't Christians supposed to love everyone? (Yes.) So why the hate? Well, there's a problem with the premise: where is the evidence that these restaurant owners hate anyone?
Is it possible to disagree with a person or refuse to participate in his activity, yet still love him? Of course it is. To suggest otherwise makes you intellectually lazy or a liar. You love a drug addict and hate his drug habit. You love your child and hate that she is cutting herself. In fact, the more you love a person, the more you hate the behavior that is harming him. The opposite of love is not hate, it's indifference.
Consider another business owner who has been attacked for her Christian faith. Barronelle Stutzman is a florist. She has employed and served homosexuals. Doing so does not compromise her faith. But when a long-time customer – one she considered a friend – asked her to provide flowers for his pretend wedding to another man – to participate in it – she had to decline. No hate, no discrimination. Just "my faith bars me from engaging in that behavior." That is a far cry from "hating" a group of people. The state attorney general finds that intolerable, however, and has sued her on the men's behalf. He is using all the government resources at his disposal to destroy her both professionally and personally. He wants her business and personal assets. Punishment for staying true to her faith. See Baronnelle Stutzman's story here.
These stories beg the question: who are the intolerant ones? Who is doing the hating, the oppressing? Rather obvious, isn't it?
Why this incredible nastiness against people of faith? Why this no dissent, win by any means, "comply or be destroyed" mentality? What happened to "we just want tolerance"? Consider the words of Philadelphia Archbishop Charles Chaput:
Evil talks about tolerance only when it's weak. When it gains the upper hand, its vanity always requires the destruction of the good and the innocent, because the example of good and innocent lives is an ongoing witness against it.  So it always has been.  So it always will be.
Evil definitely has the upper hand at the moment. But there are signs that people of good character are waking up. The most recent example? A gofundme.com fundraiser was started to cover the financial losses the O'Connors incurred when the haters shut them down. 29,164 donors raised $842,477. In two days. The totals were still steadily rising when the donation deadline stopped them. Were those donors sending a message? Oh, yeah.
For good discussions on Religious Freedom Restoration Acts (Indiana joins the federal government and nineteen other states by passing their own RFRA) and what they mean, Read the following articles.
The True Facts About Religious Freedom Laws
Questions You're Asking About Cakes, Gays, and Religious Freedom