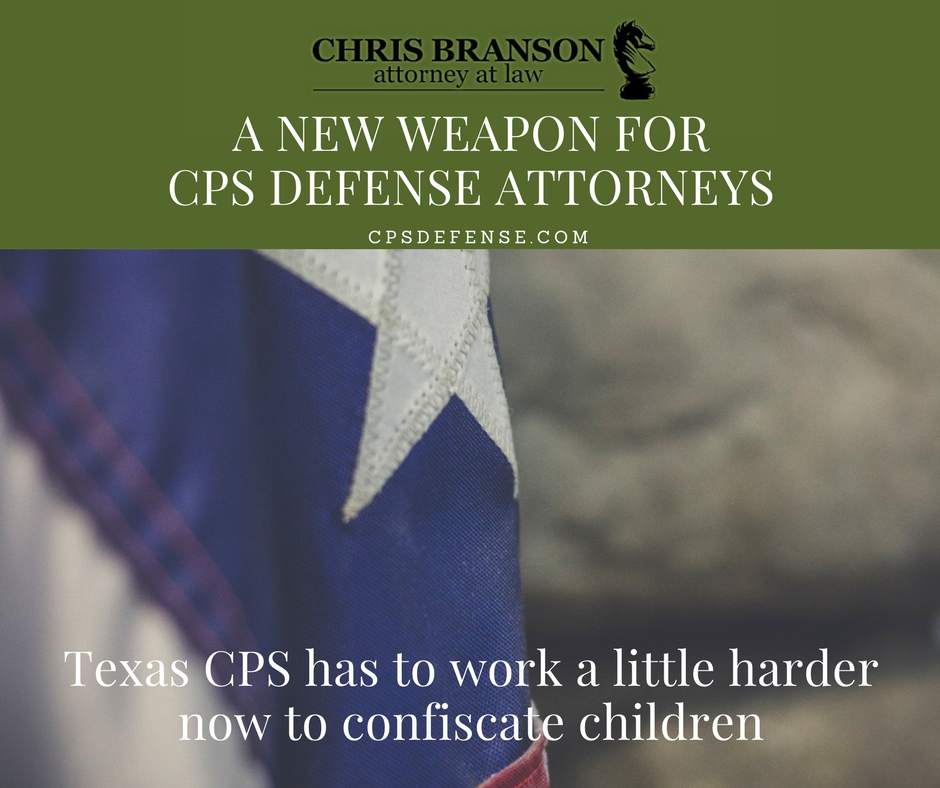 Texas CPS has to work a little harder now to confiscate children
A brand new statute (enacted September 1, 2017), Texas Family Code §262.014, requires Texas' Child Protective Services (CPS) on the request of the parents' attorney or children's attorney ad litem, to provide – prior to the adversary hearing*:
the name of any person, excluding a CPS employee, whom CPS will call as a witness to any of the allegations contained in the petition filed by CPS;
a copy of any offense report relating to the allegations contained in the petition filed by CPS that will be used in court to refresh a witness's memory; and
a copy of any photograph, video, or recording that will be presented as evidence by CPS.
I spoke with a CPS regional attorney who stated that they've had discussions about the statute, but there's no official procedure in place other than "we'll respond when we get a request." The 'when and how' will be a work in progress. I envision these documents being handed to me as we approach the bench for the hearing, which will be unacceptable objection bait.
I've created a form for the discovery request, which I'll be happy to share with anyone who asks. No strings attached. I'm just nice that way.
*The adversary hearing, aka the show cause hearing, is a hearing that must take place within two weeks of the child's taking by the State. In that hearing, CPS must "show cause" as to why it took the child and why it should keep that child prior to final trial on the allegations against the parents. This hearing is the parents' first practical chance to defend against CPS' allegations against them.